An Interview with Lynda Huey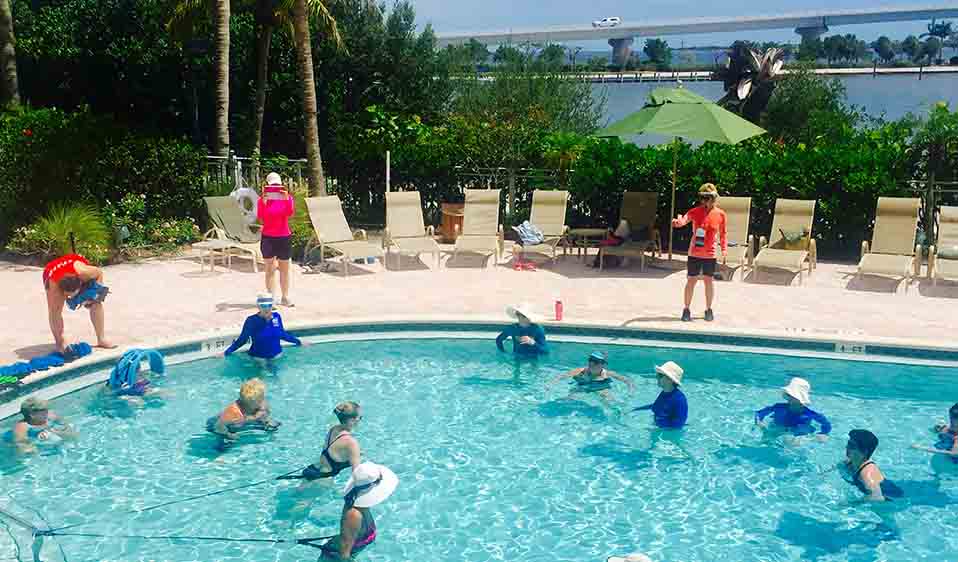 We recently had the pleasure of talking with Lynda Huey, MS, founder of Huey's Athletic Network and CompletePT in Los Angeles.
She has been an avid user of our products for decades.  Lynda Huey pioneered the use of water training with both professional athletes and Olympians back in the 1980's and is a wealth of knowledge related to water rehabilitation and training. She has authored six books on water exercise and rehab, and we currently sell both The Complete Waterpower Workout Book as well as Lynda Huey's Waterpower Workout DVD if you're interested in learning more about her teaching style.
In this interview, we asked Lynda to expand upon her experience with water training.
1). Tell us a little bit about your background in water training?
I was a track athlete and often swam and biked if I had an injury, but that didn't quite do the job. I broke my foot, and when the cast came off I was still limping, so I started teaching myself to walk without a limp in a swimming pool. Then I started running, and that crossed over so that when I was able to get back to the track, I didn't feel uncoordinated in my running as I had after swimming and biking. In addition, I started helping my teammates and other friends on the USA Olympic T&F team and soon everyone was calling me if they got hurt.
 2). What are some amazing success stories that you've been a part of involving water training?
My first huge success story was sprinter Jeannette Bolden in 1983. She had a stress fracture in her foot and couldn't train so we used a stretchy band with a waistband around her waist and had her sprint in place to keep her fitness. She did strictly pool training with me for a month before the 1984 Olympic Games, came out of the pool and got a silver in the 100M and gold in the 4 x 100M relay. That taught us sprinters could stay in world-class shape even without running on land.
Florence Griffith Joyner strained her hamstring prior to the 1987 Rome World Championships. I gave her the same sprints she would have had on the track, but running on a tether in chest-deep water the same length of time she would have been sprinting. She ran her personal best 300M the day she stepped back onto the track. In Rome, she got three silvers, but the following year in the 1988 Seoul Olympics, she got three golds (100M, 200M, 4 x 100M relay) and a silver in the 4 x 400M relay.
Wilt Chamberlain had knee surgery in 1994. He couldn't do other forms of training after his surgery, so he came to the pool religiously every day until he could play racquetball and paddle tennis again.
A popular LA TV reporter tore her meniscus on the job and scheduled a surgery. She came to our pool to shoot a segment on water rehab and I invited my co-author on three books, orthopedic surgeon Robert Klapper, MD, to participate. He told her to get in the pool and if she didn't feel better in six weeks, she could have the surgery. But she ended up canceling the surgery, because her knee felt fine. The fibrocartilage of the meniscus had mended from a "blister" to a "callus," as Dr. Klapper likes to say. The callus doesn't look normal on an MRI, but it doesn't hurt and she never needed surgery.
3). Tell us about your Aquatic Rehab Online Course and how you've leveraged technology to reach people in different countries around the world?
In 2014, I shot video once a month as I trained my staff on the nuances of my aquatic therapy exercises. Next came the editing into the various segments: Deep-Water Intervals, Stretches, Deep-Water Exercises, Kicking Series, Impact Exercises, Lower Body Exercises, Upper Body Exercises, Cervical Techniques, Distraction Techniques, Advanced Exercises and Sports, and Teaching Tips and Progression Principles.
In 2015, I launched the course at the International Aquatic Fitness Conference (IAFC) at Innisbrook, Florida. As soon as a student signs up, he or she has immediate access to the course which is 10 full-length videos, 2 shorts videos, over 100 exercises in the 300-page textbook that they can either save on their computers – or as most of my students do, print out and put into a binder for easy access. I have to say that the color photos are dazzling, both above and below water, using the same sports fitness model I've used in three books, LaReine Chabut. Each exercise indicates what it's "Good For" or "Not For" to provide proper guidance in planning.
To date I've had over 100 students sign up from 16 countries and there have been over 30 graduates. Students progress at their own pace in their own time of convenience. Some students haven't yet started; others do a few lessons at a time; and others race right through it in a few weeks. This is the best part of my job satisfaction: knowing people all over the world are learning my water rehab techniques and applying them to their own students. I personally mentor each student, answering their homework assignments they turn in, clarifying details I can see weren't quite mastered, nudging them along to the next lesson. All the while, I enjoy hearing their stories of learning the exercises and how it worked with various students, clients, and patients. Yes, there's a version for physical therapists. CECs are given from AEA, CEUs from ATRI and the CA Physical Therapy Association.
4). What were some of the early misconceptions people had about water exercise?
The same misconceptions they have today, unfortunately. It's NOT just for little old ladies in shower caps, although that's a strong part of the audience for it. It's for everyone, all the way up to the world's best athletes.
Interested in Learning More About Lynda Huey's Water Training Techniques?
If you're interested in learning more about Lynda's water training style feel free to browse through a PDF she authored which goes into the depth about the power and versatility of water training. Should you be interested in any of the NZ Manufacturing products that Lynda uses, feel free to reach out to our team today by phone at 800-886-6621 or through our online contact form.