The Benefits of Resistance Cords for Elder Care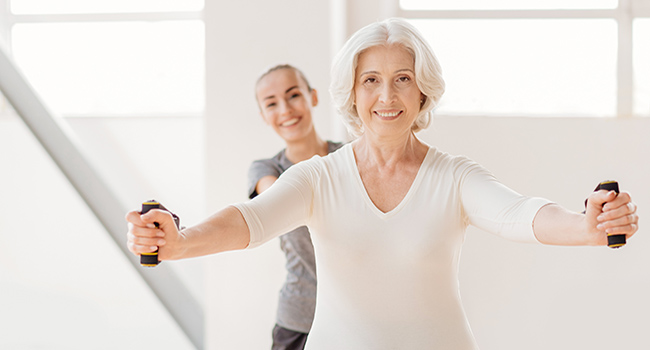 As the human body ages, your ability to gain strength and recover quickly becomes increasingly difficult. At the same time, your strength and ability to recover becomes even more essential to living a healthy, independent lifestyle in the later decades of your life.
The body's strength begins to decline around the age of 40, and by age 70, muscular strength can decline by an average of 30% according to research. Sarcopenia, or the reduction in muscular strength as we age, can be greatly reduced, if not fended off, through a smart exercise regime.
Resistance cords offer one great solution for combating this issue – in addition to numerous other obstacles the human body faces as it ages. Physical therapists commonly introduce resistance cords into their training regimens when working with seniors for a number of reasons.
Benefits of Resistance Cords for the Elderly
Providing a comprehensive, full-body workout to target almost all your body's major muscle groups
Boosting stamina
Increasing flexibility
Enhancing your range of motion
Improving strength
Increasing bone density and reducing the risk of osteoporosis
Increasing cellular growth and proliferation
Bettering brain health, which can help avoid age-related dementia
Improving balance
Bettering body composition and muscle mass
Bettering biomarkers such as blood lipids, blood pressure, and blood glucose levels
Easing the symptoms of arthritis pain
Improving cognitive performance
Improving connective tissues in joints
Enhancing coordination and agility
Helping mitigate back pain
Resistance Cords Beneficial For All Age Groups
Whether you are just looking to grow your strength or rehab an injury, resistance cords are a smart solution for gyms, physical therapists, aquatic centers, chiropractors, and sports medicine doctors to offer to their clients. They don't place too much pressure on the body's joints and allow someone to achieve a full body workout across various levels of ability. Resistance cords are customizable to one's strength needs and can offer increasing levels of intensity as one continues to improve and grow stronger. They allow elderly individuals to target multiple angles and train in the very same range of motion essential to moving about in their everyday lives.
NZ Manufacturing, which has been in business since 1985, offers a wide array of resistance cords suitable to the needs of seniors. Some of our best products such as the Turfcordz® with Handles and Safety Cord and the Pool Aqua Band S300-Strechcordz® may be a great way to start if you haven't tried resistance cords yet.
If you are interested in learning anything more about the resistance cord products NZ Manufacturing offers, you can reach out to us via phone at 1-800-886-6621 or fill out our online contact form today. We've been helping athletes, trainers, physical therapists and individuals of all ages use resistance cords to boost their agility and bounce back more quickly from injuries.